36 Summer Camping Crafts for Kids
If you are ready for summer activities, such as a family camping trip, these fun camping crafts for kids are a perfect way to introduce the adventure.
Warmer weather gives us the freedom to do so much more than we can during the colder months. After a few months stuck in doors, everyone is dying to spend their time outside again – maybe even sleep!
Camping is a fun activity for kids of all ages. You can even do it in your backyard! Whether you are looking for fun ideas for at home or a summer camp, below are 36 camping crafts for kids.
Fun Camping Crafts
These camp-themed crafts are a great way to teach little campers about this fun, outdoor activity. Get out your craft supplies, grab a seat at a picnic table, and get started on these best camping crafts.
This craft has a whole story and activity to go with it! If you are just looking for something to complete during craft time, these printable sleeping bags are perfect.
Just like tents, a light source is very important during a camping trip! While these cannot actually be used during camping adventures, they are a fun way to learn about the camping essentials.
Not everyone stays in a tent when they go camping! These paper plate campers are so much fun and you can get as creative as you want with the exterior.
Grab some cardboard tubes or toilet paper rolls and look out for bears! They are the next best thing to kids binoculars for camping.
Need a minimalist camping craft? Grab some markers, construction paper, glue, and scissors.
Walking sticks are a popular tool on camping trips! You can decorate them and personalize them any way you want. Even just paint can make them fun and unique to you! I know my daughter would love to personalize her own walking stick.
S'mores Crafts for Kids
Grab some popsicle sticks, puff paint or permanent marker, construction paper, glue, and some scissors for this adorable, easy, and smiley s'mores craft!
Some of these crafts are perfect for displaying and some of them are perfect for pretend play! This fun craft will give your little campers the chance to practice their s'mores making before they head outdoors.
Chocolate and marshmallow …What's not to love? This hanging decoration is perfect for a little camper that just got back from a trip and has a newfound love for s'mores. Grab a hot glue gun and get to work!
You can do so many fun things with cotton balls – including this craft!
Turns out, there are so many fun and different ways to make pretend s'mores. This one uses cotton balls, black and pink puff paint, brown paint, construction paper, and a paper plate!
These pretend cardboard s'mores are a great way to satiate a campfire treat craving from your little camper. Use whatever old or extra cardboard boxes you have around!
Campfire Crafts
Since real fire may not be the safest activity for little kids, these campfire crafts are a perfect substitution.
This handprint campfire uses popsicle sticks as the kindling and glitter to brighten everything up!
This creative campfire craft uses foil to add a nice, fiery texture! Using foil as the painting utensil takes away the chore of cleaning paint brushes when you are finished!
This one uses a clear plastic cup covered in tissue paper as the fire! You put a tea light inside to make it glow!
This one is simple and perfect for anyone longing for a camping adventure. Popsicle sticks, glue, construction paper, and tissue paper are all you need!
This one requires a very minimal amount of supplies – paint and construction paper.
This campfire craft is so much fun and uses something you might already have around from baking adventures – orange cupcake liners!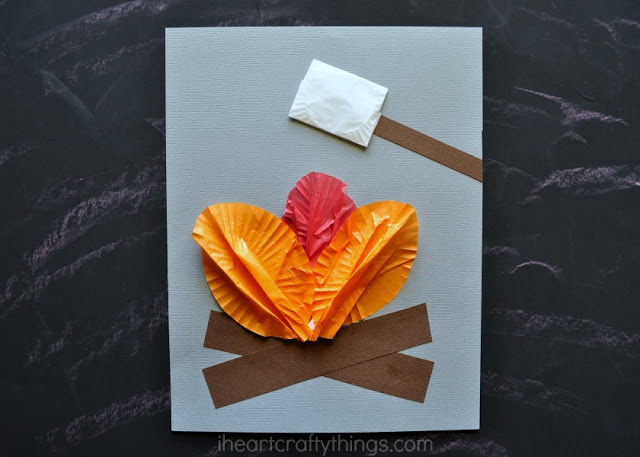 Tent Crafts for Kids
This list of ideas for tent crafts will help everyone prepare for building one outdoors. The life-size tent is a great idea if spending the night outdoors in a real tent is not an option!
The perfect craft for teaching young children all about the camping essentials. Tents are necessary for a fun and comfortable experience!
This one is so creative! You get to create both a day and night scene on opposite sides of the paper plate. This one comes with free printable for the sun, moon, tents, trees, and tree stumps!
Gearing up for your next camping trip? Putting on a camp-themed play or skit? Make this life-size cardboard tent! Little campers can practice and pretend before the event!
For this one, you can draw/paint whatever time of day you would like as the backdrop. It can be a sunny day outside or a night sleeping under the stars! If you don't have popsicle sticks on hand, pipe cleaners would work well as the tent posts!
If you're planning an upcoming camping trip, don't forget to plan for fun activities to keep the kids entertained while your busy setting up camp or tending to the fire pit.
Outdoor Crafts for Kids
Summer and camping means spending more time out in the natural elements. Some of these crafts use items you can find outdoors as materials. Others are crafts are recommended to be completed outdoors in the sun!
Mother nature has so many fun and beautiful items for us to use during craft time. These nature sun catchers are a great way to get children to spend more time outdoors!
Kids of all ages will love spending as much time as they can watching to see if any birds come and take a snack from their bird feeders!
Pine cones are so versatile! After spending some time outdoors collecting supplies you can grab a bit of paint and get messy with this one!
You are almost required to do this craft and activity outdoors! It could get messy, but will also be something kids of all ages remember and want to do over and over again. This squirt gun craft is perfect for the whole family.
While this craft also uses a method of spraying paint, it is a little more contained. You could do this one indoors, but if the weather is nice make it a whole outdoor experience!
This great craft is a great way to use up some extra water bottles.
This fun project lets little creators gather their supplies from the natural elements.
Summer Crafts for Kids
While summer isn't the only time you can go camping, it is usually the most popular! If you'd ask my husband, he would say any time is the perfect time for a camping trip with the family.
Check out these other summer-themed crafts that you can do both indoors and outdoors.
Salt adds a really fun texture to these colorful firework paintings!
Use the ocean keepsakes you found on your vacation this year for this sparkly craft.
This one is easy peasy. Just grab tissue paper and construction paper and get to work!
Catching fireflies is one of the best parts of summer. Grab some googly eyes to give these bugs a little movement!
If it is too hot for the lemonade stand right now, this craft is perfect for a lemonade lover's pretend play.
Sunshine and summer go hand in hand. Doilies are perfect for so many different crafts and this one is no exception!
Celebrate together with these firework crowns! Blow paint may sound complicated, but its not – just a little messy. If the weather is nice a messy craft should be no problem!
Thanks for taking the time to look through these camping crafts for kids. If you're looking for more crafts, click on the "crafts" keyword to the right of the screen – or at the very bottom of this post if you're viewing on a phone.
Before you go, here are more posts you'll enjoy:
50 Best Arts and Crafts Toys for Kids
115 Fun Summer Activities for Kids
Camping Crafts for Kids