15 Best Monster Books For Kids
As you know, more and more kids are showing signs of anxiety these days. A fun way to incorporate lessons about feelings into this holiday season are these monster books for kids. Not the scary ones…but these monster books help kids understand and cope with their feelings.
Whether you are a parent of a teacher, you know it's common to have kids afraid of the dark. With that, there are typically underlying emotions that arise. For example, it's not the "dark" that is frightening – it's the anxiety of the "unknown".
You'll often hear kids say they are afraid of the dark, because they are afraid monsters will get them.
While this may be silly to us adults, it's a common anxiety for kids, and there are ways we can help them get through it. These monster books for kids are a great way to help change their thoughts about scary monsters.
At the end of the list of great monster books, there is a fun monster theme craft that young children and older children enjoy!
Monster Picture Books
So save you time, I have put together a list of the books highlighted in this post. After the list, you will see a brief description of each book, followed by a fun monster craft for kids. (end of this post)
Monster Books for Kids (Descriptions)
If your kids are afraid of going to bed on their own, Nighty Night Little Green Monster is a fun book to read before bedtime! By the end of this children's monster book, they will be ready to tell you good night with a smile on their face.
Glad Monster Sad Monster
This monster book for kids is an amazing book to learn about feelings. Emotional intelligence is an important part of early childhood education.
If you're looking for an interactive book about emotions for kids, this is great for kids of all ages. At the end of this book, there are masks the kids can put on and pretend to be the emotion monster. This would be a fun way to draw interest to more popular monster books.
Go Away Big Green Monster!
My kindergarten kids love the book Go Away Big Green Monster, by Edward Emberley.
With colorful illustrations, this is the perfect book to entertain, and help kids get over their fears. After reading the monster book about conquering fears, we completed a listen and do monster craft for kids, otherwise known as a glyph or craftivity. (The craft is at the end of this post)
While doing a read aloud, the kids became engaged in a shared reading lesson, shouting, "Go away big green monster", watching as the monsters scary features disappear one by one. This is a good thing, because the kids learn to conquer their fear in real life with the use of a good story line and a book monster.
If your focus is not on overcoming fears, you can use this book as an intro about shapes. Read aloud the book, then do a shape hunt around the room. Or, go for a walk outside to look for shapes.
Then, print off these Making Words: Shapes worksheets for your kiddos to practice building shape words, writing shape words, and drawing shape pictures. They can reference Go Away Big Green Monster! book for shape ideas.
How To Catch a Monster
A New York Times and USA Today bestseller children's book! Your kiddos will laugh as they watch this young ninja meet the monster in the closet that's been keeping him awake every night! This nervous little boy becomes brave and faces what he thinks are creepy monsters.
Tickle Monster
Oh, parents! Now is your time to get them back for all of that tickling they do to you! Read the Tickle Monster book, and tickle your kiddos until they are happy and ready for bed 🙂
Monsters Don't Eat Broccoli
Monsters would rather snack on rocket ships, tractors, and steely stew than eat their vegetables. But, sure enough, those trees they are munching on sure look like broccoli! See, monsters DO eat broccoli, after all!
The Color Monster
This monster book for kids explores emotions. Kids will learn how to relate bright colors to emotions; tapping into social emotional growth and color recognition. This popular children's monster book is on the many bookshelves, and in the little hands of children all over the world.
I Need My Monster
This is a fun book about monsters under the bed. Your kids will laugh out loud as you read aloud the monsters dialogue using funny, yet, spooky voices. I love when scary monster books have the perfect balance of giggles during story time.
There's a Monster in Your Book
"Shake, wiggle, and tickle the monster out of this book—an interactive bedtime read-aloud by a YouTube star, musician, and children's book author." Monsters may have sharp claws, but this silly book has no scare factor.
How To Draw Cute Monsters
If you have kids who love to draw, this is a perfect addition to your monster books for kids collection.
Where the Wild Things Are
Oh my goodness, I love this book! Where the While Things Are, by Maurice Sendak, tells the story of a little's boy imagination. When he gets into trouble, and is feeling sad, he goes into his room, and imagines a place where the wild, but friendly, monsters live.
This is a must-have in your collection of monster books for kids!
Monster Craft for Kids
Call it what you want, a monster craft, monster glyph, or shape glyph, this activity is sure to be a hit! We all know what a craft is, but "glyph" might be an unfamiliar term to you.
The end product is the same overall craft as the rest of the class, but the details reveal an individualized glyph.
Monster puppets are great for the kids to use while retelling the story, or speaking to the class about their monster glyph.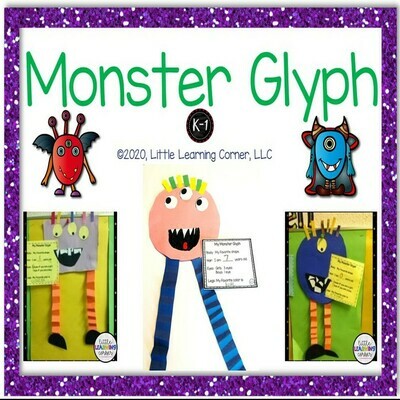 Before you go, here are a few blog posts you would enjoy:
30 Best Halloween Books for Kids
100 Things To Do at Home with Kids
Monster Books for Kids